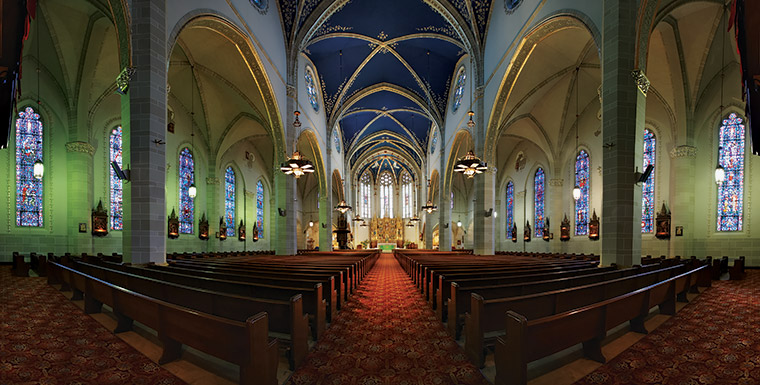 Welcome to our online parish community!
St. Florian was founded in 1907 and assigned its first pastor, the Rev. Bernard Zmijewski, who was an immigrant from Poznan in northwest Poland. Ground was broken for the church in March, 1908. The cornerstone of the first church was laid on July 12, 1908, and was dedicated January 10, 1909, by Rt. Rev. John S. Foley, Bishop of Detroit.
In 1907 many Polish immigrants had settled in the Hamtramck area and worked at the local automotive plants. It was these immigrants from Poland, almost all of them blue-collar factory workers, who somehow found 500,000 pre-Depression dollars to build the new church in the 1920s. Construction of the new church began in January 1926 and it was dedicated on October 21, 1928. It won the American Architect Award in 1929. The property consists of one square block and the buildings include a combination structure, church and school, also a rectory.
The architect of the church was Dr. Ralph Adams Cram of Boston. In a history of St. Florian written by Dr. Thaddeus Radzialowski, he says Cram rebelled against the hard-nosed social Darwinism of the Industrial Age and sought to reclaim the beauty and spiritual values of the cathedrals of the Middle Ages.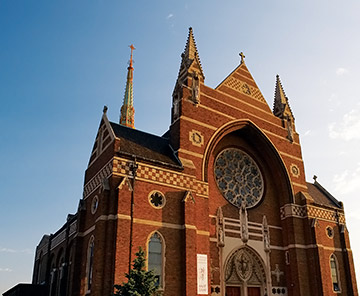 St. Florian Church rises eight stories above ground and recalls the great cathedrals of Europe. The front of the church features a broad Gothic Arch flanked by twin spires notable for the impression that give of lightness and delicateness. The brickwork is also exceptionally impressive with a variety of horizontal bands. The stained glass windows, including the huge Rose window in the rear of the church, were made in Reading, PA. The giant pipe organ was built in Detroit. The main altar and side altars, including one for Our Lady of Czestochowa, are decorated with real gold leaf. The altar windows depict five famous Polish saints—Casimir, Florian, Hedwig, Hyacinth and Stanislaus—while the nave windows illustrate the life and teachings of Christ.
In 1969, the bishop of Kracow, Poland, Karol Cardinal Wojtyla, celebrated mass in St. Florian. Wojtyla, was later elected the first Slavic pope, John Paul II. The church was also featured in the movie, Polish Wedding.
The St. Florian Historic District serves the same function as it did a century ago—providing homes for migrants coming to Detroit to seek a more prosperous and secure life. In addition to the Polish population, St. Florian Parish now serves many nationalities including Albanian, Asian and others of multiethnic American descent. St. Florian's Church is an impressive memorial left by the original Polish immigrants who once lived in the Hamtramck area in great numbers.