Saint John Paul II School of Polish Language and Polish Culture at the parish of St. Florian in Hamtramck.
School Year 2014/2015
Please return the filled forms together with the required fee to the catechists or teachers during religion or Polish language classes , or bring them to the parish office during the week.
Teachers:
Fr. Mirosław Frankowski, S. Chr. (School Director)
Urszula Mejza (Coordinator)
Maria Kutak-Kozik
Anna Mączka
Zofia Sarzyńska-Kuraś
Catechists
Fr. Mirosław Frankowski, S. Chr.
Fr. Hubert Zasada, S. Chr.
Anna Ordon
Radoslaw Stefanski
Sr. Kazimiera
Parent Council
Chair: Katarzyna Cywinski
Vice-Chair: Agnieszka Kordas
Treasurer: Maria Chochla
Council Members: Anna Adamusik, Monika Chabowska, Małgorzata Stanko, Marta Szczęch, Renata Zdrojewska
Yearly Tuition:
1 child – $ 195
2 children – $ 320
3 children – $ 370
The annual fee for religion classes is: $ 60
Contact and address:
For more information about religious education and Polish Language School please contact the parish office:
E-mail: office@stflorianparish.org, phone 313-871-2778, fax 313-871-5947
School address:
School of Polish Language and Polish Culture: 2626 Poland, Hamtramck MI 48212
School History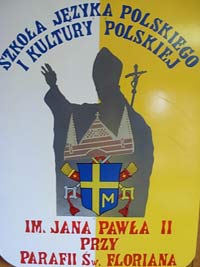 School of Polish Language and Culture at the Polish parish church. Florian in Hamtramck was established in September 2006, the pastor at that time was Fr. Sielicki, T. Chr. The school was organized by: Halina Massalska, Maria Kutak-Kozik and Urszula Mejza. The school opened with preschool and kindergarten classed. Classes are held every Saturday from 9:00 am to 1:30 pm. The students study Polish Language, history, geography and religion (all classes are tought in Polish). The school also has after-school activities for students interested in mathematics, dance, drama and choir.
Patron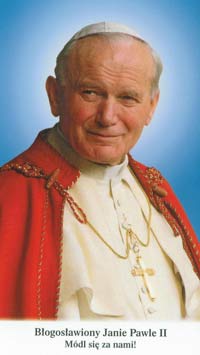 John Paul II (Latin: Ioannes Paulus II) – Karol Jozef Wojtyla. Born May 18, 1920 in Wadowice, Poland. Son of Karol Wojtyla and Emilia Kaczorowskich. Karol Wojtyla was baptized on June 20th, 1920. He was a very talented and athletic boy. He regularly played football and went skiing. A very important element in the life of Karol was the tours and walks around Wadowice. His mother died on April 13, 1929 at the age of 45. Three years later, in 1932, his brother Edmund died of scarlet fever at the age of 26. From September 1930, Karol Wojtyla began studying at the 8-year-old Men's National Gymnasium named after Martin Wadowity in Wadowice. In the first class, encouraged by Fr. Kazimierz Figlewicz, Karol joined the altar servers, and eventually became the president. While studying in high school he became interested in theater. On May 14th, 1938 Karol Wojtyla graduated from high school. In October 1938, Karol Wojtyla began studying in the Department of Philosophy at the Jagiellonian University. On February 18th, 1941 after a long illness, his father died. Even with the outbreak of World War II, Karol Wojtyla received the opportunity to continue his studies. In the autumn of 1941, Karol and his friends founded the Theatre, which staged its first performance on November 1, 1941. Wojtyla's parting with the theater was sudden in 1942, when he decided to study theology and entered the secret Metropolitan Seminary in Krakow, where on November 1st, 1946 he was ordained a priest. At the same time he continued his studies as Jagiellonian University. In the period from April 1945 to August 1946 Karol Wojtyla worked as an assistant at the university and conducted seminars on the history of dogma. On November 15th, Karol Wojtyla went to Paris, and then to Rome to continue his studies at the Angelicum University Instituto Internazionale. In 1958, Karol Wojtyla was appointed titular bishop of Ombrii, as well as auxiliary bishop of Krakow. While he was a bishop, Karol Wojtyla also attended the Second Vatican Council. On December 30, 1963, eighteen months after the death of his predecessor Archbishop Eugeniusz Baziak, Karol Wojtyla was appointed Archbishop of Krakow. After the death of John Paul I, during the second conclave in 1978, Wojtyla was elected pope and took the name John Paul II. The result of the selection was announced on October 16 at 4:16 pm. Karol Wojtyla died on April 2, 2005 in the Vatican.