Audio clip: Adobe Flash Player (version 9 or above) is required to play this audio clip. Download the latest version here. You also need to have JavaScript enabled in your browser.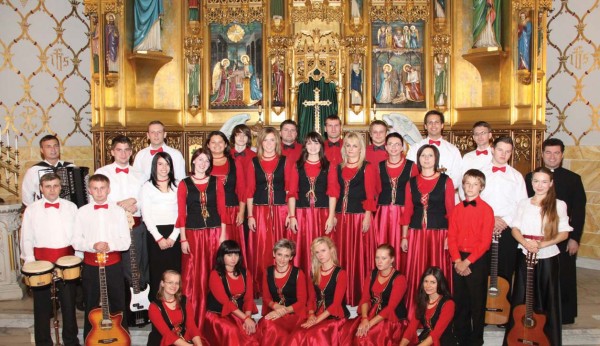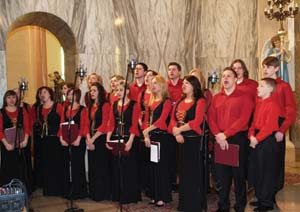 The musical group "ADORAMUS" has performed at St. Florian Church in Hamtramck, MI, USA since 2008. The group performs for the Church's liturgical celebrations. It has also performed for the Polish-American community in Metropolitan Detroit, Chicago, Doylestown and Toledo in support of various religious and patriotic celebrations.
Choir: Ewelina Jablecka, Katarzyna Rakowiecka, Katarzyna Koziatek, Ewelina Kaminska, Urszula Mejza, Iwona Kot-Roczon, Katarzyna Roland, Agnieszka Wilczek, Agnieszka Kordas, Alicja Bucior, Aleksandra Bucior, Wioletta Stachelek, Karolina Rejniak, Joanna Wlazik, Tomasz Bak, Grzegorz Adamusik, Przemysław Fratczak, Dawid Majda, Patryk Roland, Patryk Roczon, Daniel Naworol, Ewelina Rębisz.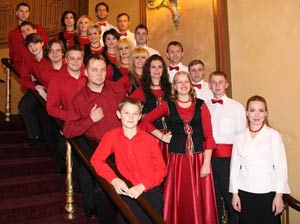 Group Leader:
Fr. Mirosław Frankowski S. Chr.
Drums: Alexander Męczenski

Accordion: Michael Lacey
Violin: Thomas Mikulski
Bass Guitar: Slawomir Wojczuk
Rhythm Guitar: Jan Lechanski, Adam Meczenski, Sylwester Grega, Eliza Wyrzykowska
Song Titles:
Przyjaciela mam
Hetmanka
Drzewo Krzyża
Dałeś nam Siebie
Dzięki Panie za Twą łaskę
Wzywam Cię
Żyje nie ja
Rozpięty na ramionach
Chlebie Najcichszy
Oto ja